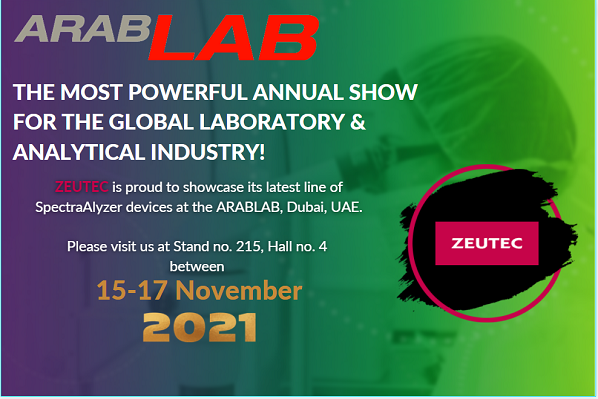 Event date: 15th-17th Nov
Address: Dubai, UAE
Hall no: 4                                
Stand no: 215
Description:
ARABLAB is the #1 TECHNOLOGY FORUM, Where almost 1,000 exhibitions meet visiting buyers from over 100 countries. ARABLAB is the #1 BUSINESS to BUSINESS SHOW. Where over 10,000+ buyers and distributors formulate global business partnerships. ARABLAB hits the #1 spot with More Space and New Specialist Sectors. ARABLAB is the only trade show for the  Analytical Industry that reaches buyers from the growth markets such as the Middle East & Africa and Indian Sub-continent, as well as China & Asia. ZEUTEC is proud to showcase its latest line of SpectraAlyzer devices at this prestigious event.
Head office
ZEUTEC GmbH
Friedrich-Voß-Str.11, D-24768 Rendsburg
T: (+49) 4331 – 136650
E: moreinfo@zeutec.de
Regional Office Asia
ZEUTEC Opto-Elektronik (India) Private Limited
Sabi Cottage, 681, Kavery Layout,
H.A. Farm Post, Dasarahalli,
Bangalore – 560024, Karnataka, India
T: (+91) 9339994833
E: moreinfo@zeutec.de
Find your local sales and service center
Send us a message
We will contact you as soon as possible.