SpectraAlyzer
GRAIN NEO

– The ultimate solution for Grain Testing
Assuring grain quality from field to factory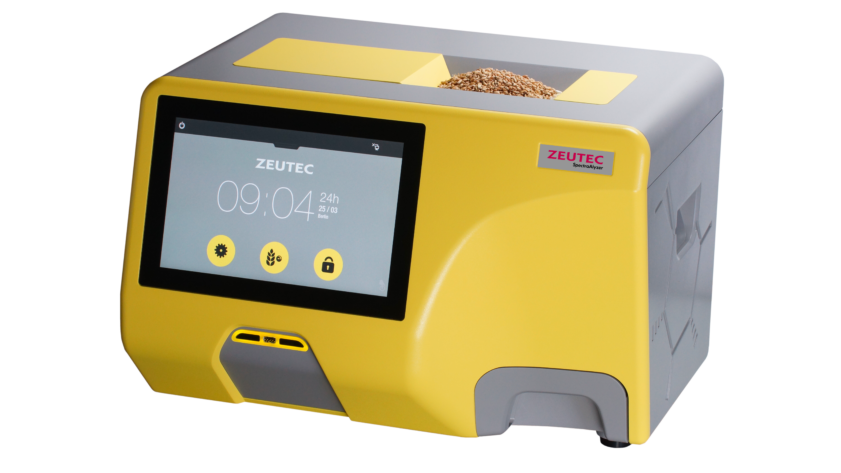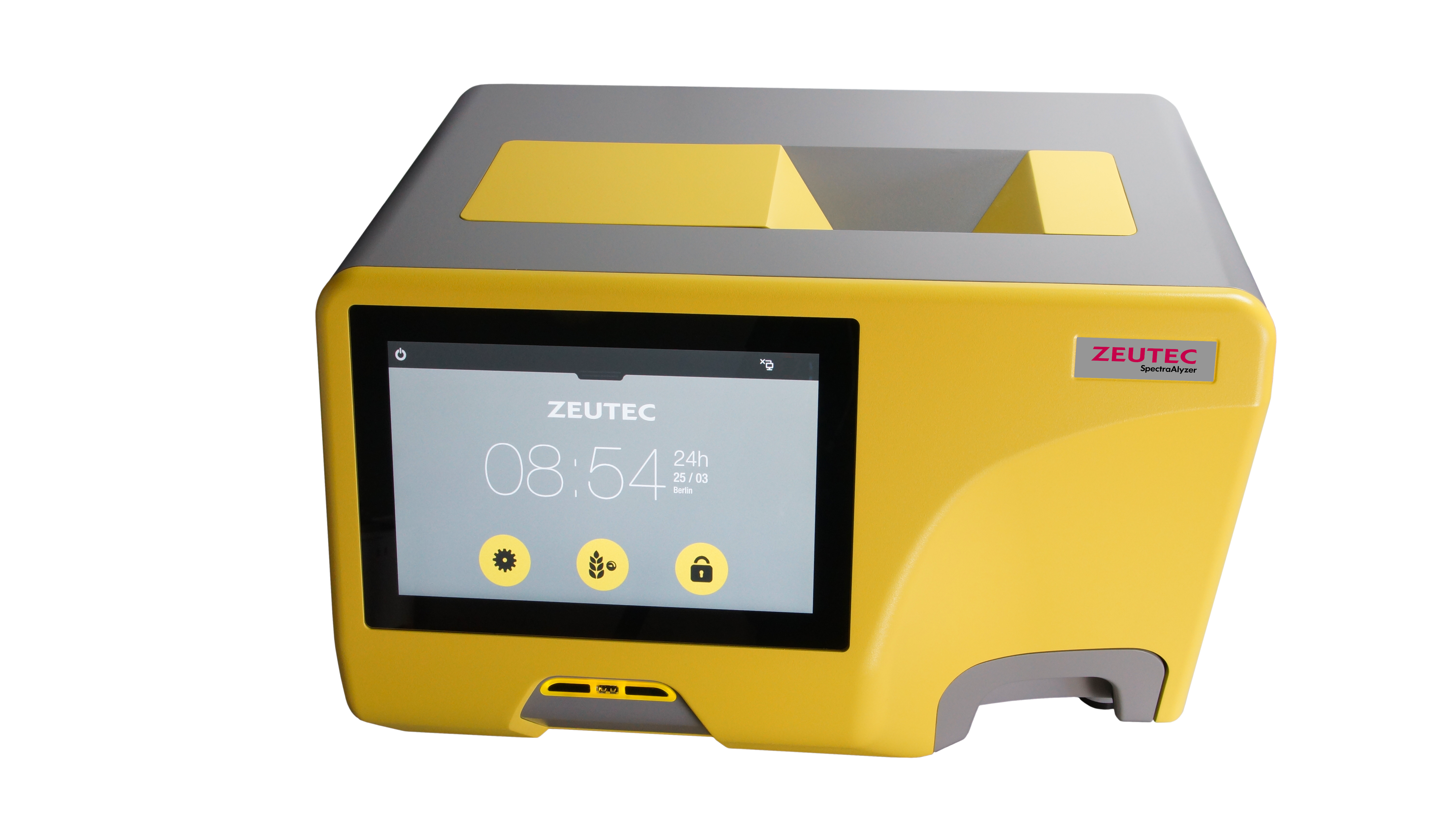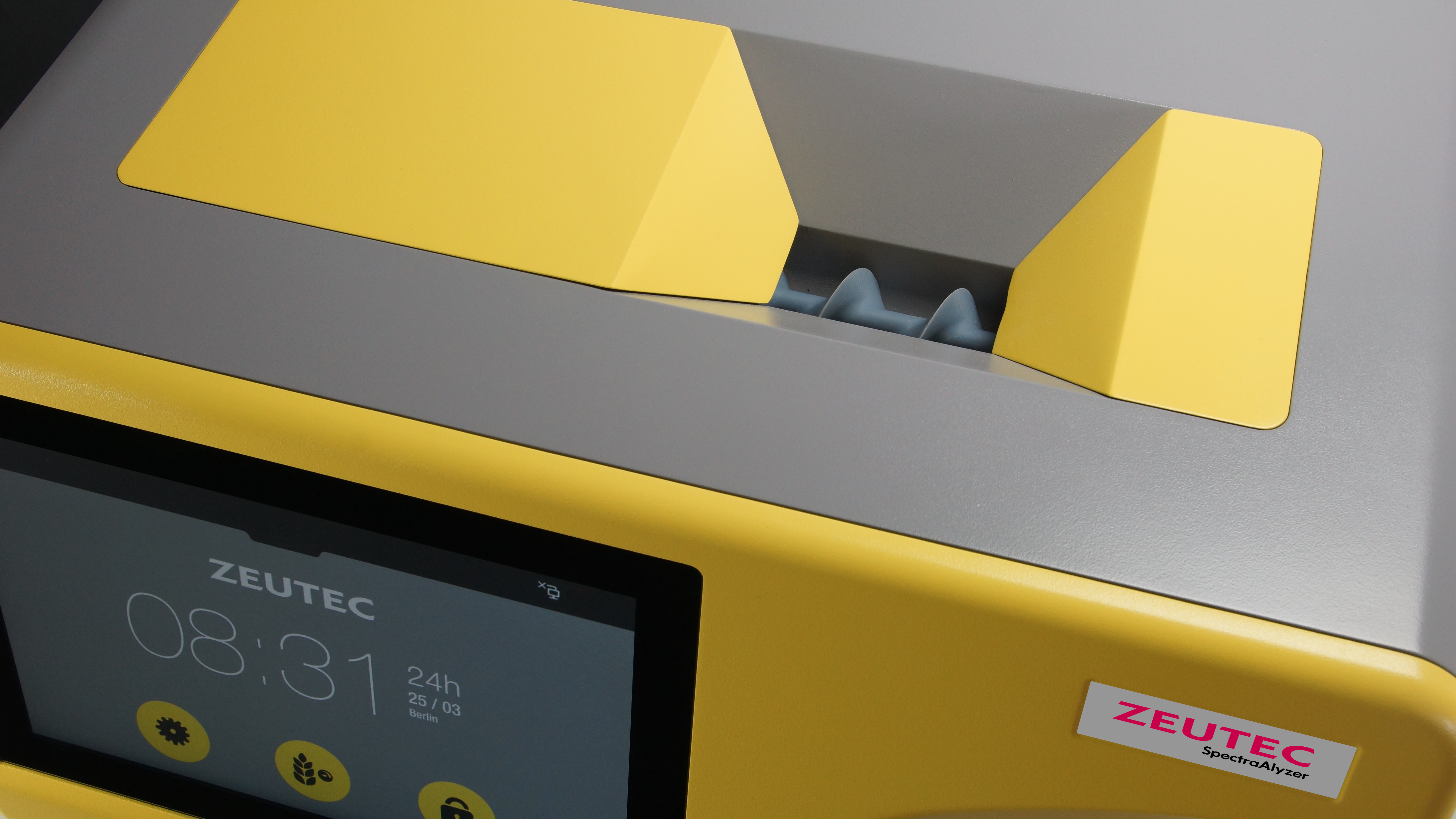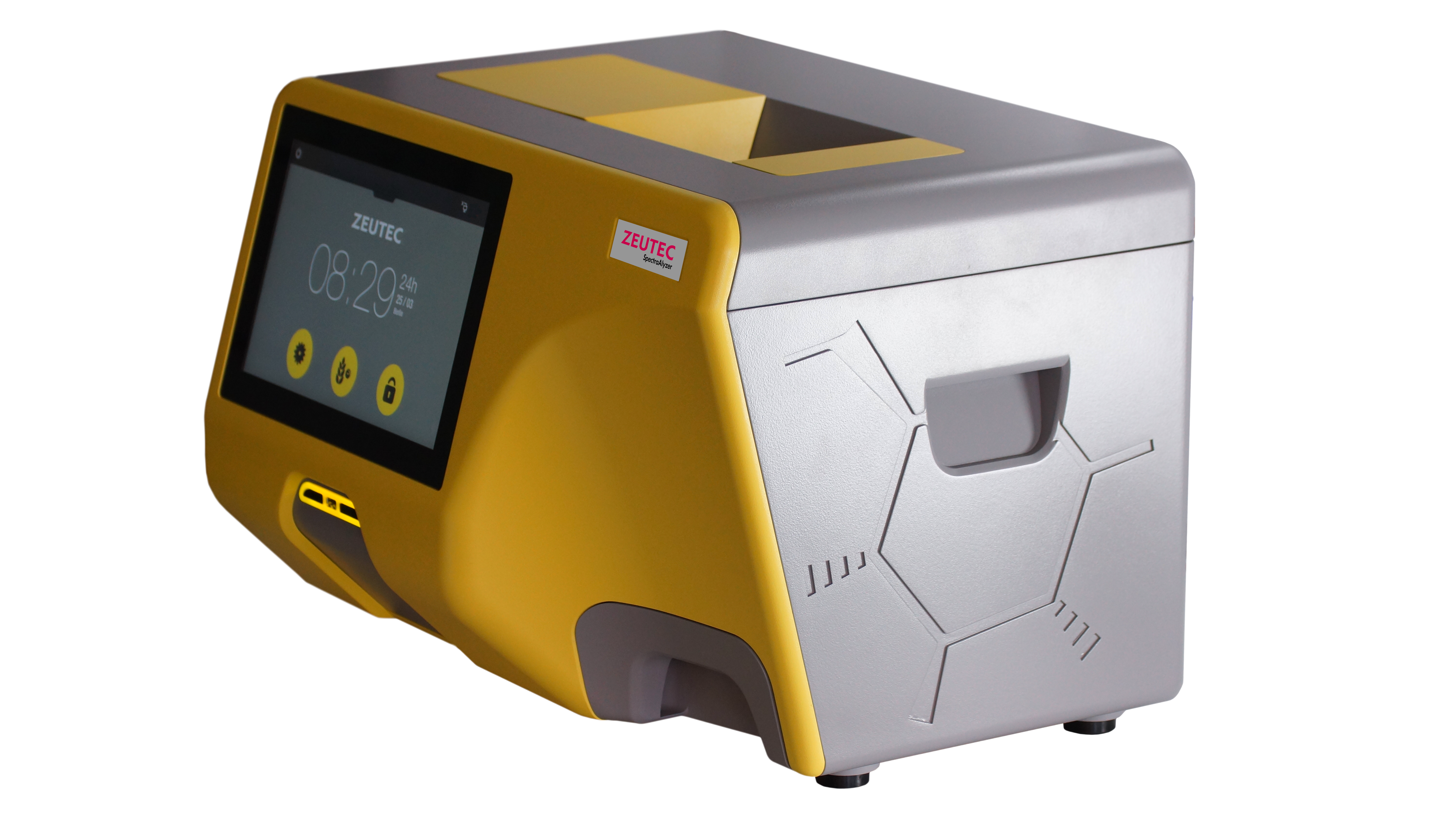 ZEUTEC presents a new generation of the SpectraAlyzer
GRAIN

– the SpectraAlyzer

GRAIN NEO

with new features, state-of-the-art design, better performance and with the aim of bringing a new perspective to grain testing.
The SpectraAlyzer
GRAIN NEO

is built to provide Grain quality assessment and assurance to farmers, traders and processors.

The SpectraAlyzer GRAIN NEO is your ideal solution to obtain the measurement of moisture, protein, fat/oil, ash and other quality parameters in Grains, Cereals, Oilseeds and Flour. A greater variety of material can be handled with the all-new screw conveyor for sample feeding and automatic discharge. There is no need for grinding or other sample preparation at all, with an increased optical path-length, for a multitude of whole grain and oilseeds.
In order to analyze powder samples, e.g. wheat flour, an optional Flour Module is available as an additional accessory. Each grain analyzer can be (retro) – fitted with a test weight module (aka Bushel weight, hectoliter weight, or specific weight) to determine the volume to weight ratio of the samples analyzed. Digital images of the analyzed samples can be captured, processed and directly visualized with the optional integrated image processing unit.
The SpectraAlyzer GRAIN NEO offers an improved UI experience with an array of new features and functions. The instrument is controlled with an intuitive icon driven software using a PCAP glass touch and color TFT display with 1280×800 pixel. With a screen size of 12.1" and high luminance the touch operation and data visualization is optimized. The routine operation of the analysis process can be automated with cloud connectivity features. Results obtained can be directly linked to ERP systems eliminating the need of manual data handling and archiving.
All this making the SpectraAlyzer GRAIN NEO the ideal choice for fast and accurate whole grain testing.

NIR Sample – Reference technology
like all SpectraAlyzer® instruments for high sensitive
and long term stable measurements.

Easy sample presentation
by filling the whole grains into the hopper on the top.

User friendly
sample presentation and easy to operate.

Compact design
optimized for bench top or at-line application.

Touch user interface
and intrinsically mounted glass touch for straight
forward hygenic instrument operation.

Many mathematical models
for all kind of products included for quick
algorithms installation and start-up.

Web server
web connectivity for direct instrument access
via LAN and internet from anywhere, any time.
The SpectraAlyzer
GRAIN NEO

is an all grain analyser and quality check instrument designed for the analysis of solid bulk materials in diffuse transmittance.
The SpectraAlyzer
GRAIN NEO

– All grain analyser and quality check instrument, is shipped with pre-installed standard calibration models for many products, parameters, and countries where typical applications are:
Grain trading/reception/malting
Wheat, durum wheat, rice, barley, mustard, sesame, corn, soy, groundnut, malt, green malt, rye, oats, triticale, sorghum/milo, lentils, beans, green and chick peas and others.
Flour milling
Wheat and rye flour, semolina, ground wheat, rice meal and flour, soy meal, corn meal and flour and others.
Oilseed crushing
Soybean, canola/rapeseed, sunflower, mustard, groundnut and others. All calibrations provide accurate analytical values and are 100 % transferrable between instruments!
Technical data
SpectraAlyzer GRAIN NEO
Design
| | |
| --- | --- |
| Design | NIR Monochromator |
| Spectral range | 570-1100 nm(Optional 400-1100 nm) |
| Verification of wavelength | Automatically during start-up |
| Optical bandwidth | 4 nm |
| No of datapoints | >3000 |
| Measurement | Transmission |
| Sample presentation | Automatic |
| Optical path length | Automatically adjusted, range 6 – 36 mm |
| Measuring time | 45 s, 200 – 300 g sample(refilling possibility) |
Display
| | |
| --- | --- |
| Screen | 12.1″, TFT 1280×800 pixel |
| User Interface | PCAP Glass Touch, multi-language GUI |
Software
| | |
| --- | --- |
| Software | Integrated, stand-alone operation, fail-safe |
| Software / database storage | SD card, 16 GB |
| Interfaces | 1x front USB, 3x back USB, 2x RS232, Ethernet |
| Printer | Printer as optional accessory |
| Input voltage / rated current | 100-240 V, 50/60 Hz(wide range power supply 150 W)1.7A,(optional Car Adapter 12V,10A) |
| Protection | IP50 (dust and humidity) |
Dimensions
| | |
| --- | --- |
| Dimensions | Height: 393 mm / Width: 570 mm / Depth: 458 mm |
| Weight | 25 kg |
Modules
| | |
| --- | --- |
| Flour module | For flour, semolina, soy meal and other ground samples |
| Test Weight Module | For determination of volume to weight ratio of the sample |
| Image processing module | Image processing unit (integrated) for Image acquisition, processing, storage and visualisation of sample images |
Options
Test weight module, Flour cuvette set, Image processing unit, WI-FI, Application worx (AWX G2)
Chemometrics software package, Barcode reader, Keyboard

specific product data sheet