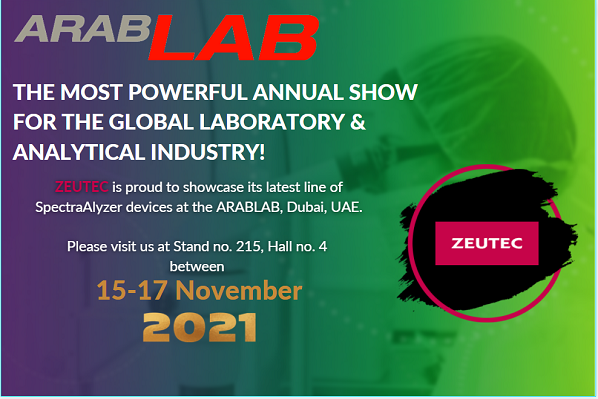 Veranstaltungsdatum: 15th-17th Nov
Addresse: Dubai, UAE
Hallen-Nr.: 4                                
Stand-Nr.: 215
Beschreibung:
Die ARABLAB ist das TECHNOLOGIE-FORUM Nr. 1, auf dem fast 1.000 Ausstellungen auf Besucher aus über 100 Ländern treffen. ARABLAB ist die Nr. 1 BUSINESS to BUSINESS SHOW. Wo mehr als 10.000 Einkäufer und Händler globale Geschäftspartnerschaften schließen. Die ARABLAB ist die Nummer 1 mit nun noch mehr Platz und neuen Fachbereichen. Die ARABLAB ist die einzige Fachmesse für die Analytikindustrie, die Einkäufer aus den Wachstumsmärkten wie dem Nahen Osten und Afrika, dem indischen Subkontinent sowie China und Asien erreicht. ZEUTEC ist stolz darauf, auf dieser prestigeträchtigen Veranstaltung seine neueste Produktlinie von SpectraAlyzer-Geräten vorzustellen.
Head office
ZEUTEC GmbH
Friedrich-Voß-Str.11, D-24768 Rendsburg
T: (+49) 4331 – 136650
E: moreinfo@zeutec.de
Regional Office Asia
ZEUTEC Opto-Elektronik (India) Private Limited
Sabi Cottage, 681, Kavery Layout,
H.A. Farm Post, Dasarahalli,
Bangalore – 560024, Karnataka, India
T: (+91) 9339994833
E: moreinfo@zeutec.de
Find your local sales and service center
Send us a message
We will contact you as soon as possible.