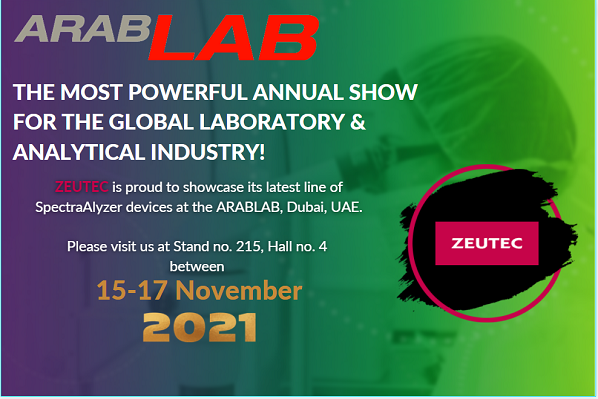 Fecha del evento: 15th-17th Nov
Dirección: Dubai, UAE
Pabellón no: 4                                
Descripción:
ARABLAB es el FORO TECNOLÓGICO número 1, donde se reúnen casi 1.000 exposiciones con visitantes de más de 100 países. ARABLAB es el espectáculo número 1 de BUSINESS to BUSINESS. Donde más de 10.000 compradores y distribuidores forjan asociaciones comerciales globales. ARABLAB es el salón número 1, ahora con más espacio y nuevas áreas especializadas. ARABLAB es la única feria de la industria analítica que llega a compradores de mercados en crecimiento como Oriente Medio y África, el subcontinente indio, China y Asia. ZEUTEC se enorgullece de presentar su última línea de instrumentos SpectraAlyzer en este prestigioso evento.
Head office
ZEUTEC GmbH
Friedrich-Voß-Str.11, D-24768 Rendsburg
T: (+49) 4331 – 136650
E: moreinfo@zeutec.de
Regional Office Asia
ZEUTEC Opto-Elektronik (India) Private Limited
1st Floor, No: 15 & 16, 18th A Cross, Bhuvaneshwarinagar,
Dasarahalli Main Road, Bangalore 560024, Karnataka, India
T: (+91) 9339994833
E: moreinfo@zeutec.de
Find your local sales and service center
Send us a message
We will contact you as soon as possible.