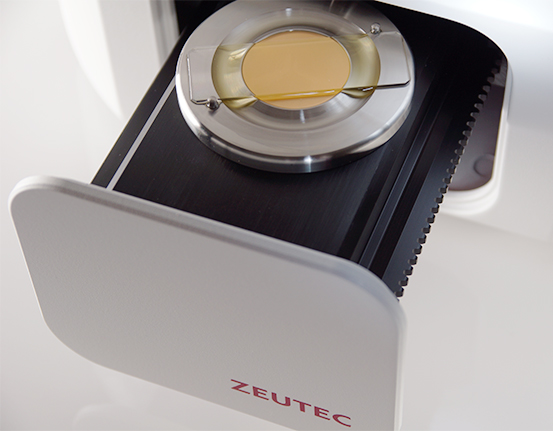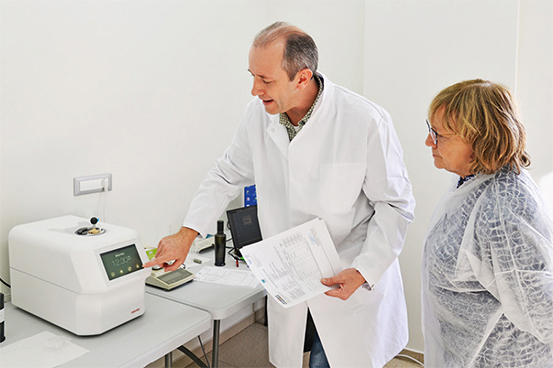 The ZEUTEC GmbH
was founded with the objective to develop and produce specialized spectrometer systems for scientific applications.
Since then the product range of spectrometers and accessories covers NearInfrared (NIR) analyzers for routine laboratory applications with a multitude of accessories for the sample conditioning and presentation. Dedicated analytical solutions are available for agricultural, food, feed and other industrial applications which are sold in the market all over the world.
Worldwide representatives, together with our own sales department and technical
support, assure that ZEUTEC keeps in touch with our customers and their needs.
The wide range of specialized analytical systems is the result of technical challenge and product specific know-how. A design according to advanced techniques, a high standard of production and strict quality control guarantee a durable and reliable operation of our instruments and accessories.
Our own developments in conjunction with an excellent contact to leading manufacturers of optical components and sensors ensure state-of-the-art spectrometer technology. Our spectroscopy products are solely produced with components from leading German and other global suppliers.
Combining quality-conscious manufacturing and permanent quality assurance, we produce analysers that can be used virtually maintenance free for years. Apart from continuous quality control of their products, our customers generate added value by saving on raw materials, energy and labour.
ZEUTEC provides the necessary application, installation, calibration and training services, ensuring the continuing successful operation of our customers' analyzer systems.
Since 1997, ZEUTEC is developing
optoelectronic measurement systems.
At the beginning special emphasis was given to the marketing of miniature spectrophotometers, spectroscopy components and spectral imaging systems. This was followed by first in house developments of fiber optic coupled probes, flow cells, light sources and chemometric software packages.
In 2003, the first industrial online image analysis system for the determination of contamination in powder streams was developed and installed. During the following years ZEUTEC supplied customized spectral imaging systems to a broad range of German and European research institutes and a large number of industrial customers.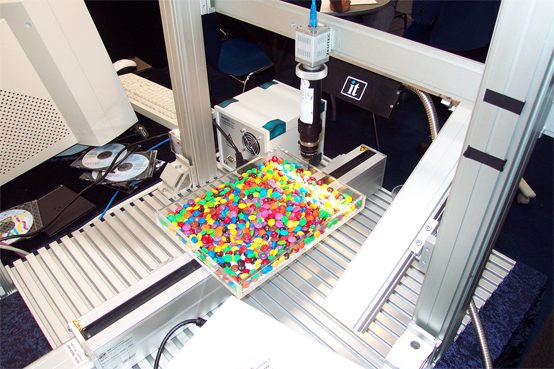 Today ZEUTEC provides its customers with flow cells, light
sources and software packages and the "SpectraAlyzer" NIR
spectrometers.
The SpectraAlyzer instruments are widely used in routine analysis of the agri, food, feed and chemical industry as well as in research stations and universities institutions worldwide.
The devices have a high benefit to our commercial and industrial customers.
Through the precise determination of the composition of the traded or produced product, a direct conclusion about the quality and cost of traded, used raw materials and the efficiency of the production is possible.
Using the data from the analyzers, yield and efficiency of the production process and thus the profit of our customers can be optimized.
The fast and accurate analysis of the properties of the product produced also serves the quality control and assurance. In agricultural trade, suppliers are paid based on the quality of the raw materials which is determined using the SpectraAlyzer devices.
In 2006 the SpectraAlyzer and its extensive accessories were awarded the Schmidt-Römhild technology award
of Schleswig-Holstein. Its sensitive optics, versatility and simple to operate user interface convinced the judging panel.
The parts and assemblies for our devices are developed by highly skilled employees and solely manufactured by ZEUTEC. Assembling, testing and application engineering is done in house. A variety of accessories and our own software packages complete the SpectraAlyzer product range. Complex services such as application support, software customization, service and spare parts sales help our customers getting the best return out of their investment. Especially new spectroscopy and detector technologies open up innovative applications.
Today ZEUTEC has a big customer base of leading companies from the agricultural and food industry as well as well known research institutes like Fraunhofer Institutes, Max-Planck-Institutes and University Institutes all over Europe and other countries globally.
Since 2000 ZEUTEC is based in Rendsburg at the Kiel Canal, the most utilised artificial water way worldwide connecting North Sea and Baltic Sea . Here in the northern county Schleswig-Holstein which is well known for its excellent support and conditions for high technology companies (medical, optical, renewable energy) we share the benefits of simple access to high performance products and services in the surrounding area.
Rendsburg itself is a very old town, established in 1150 in the center of Schleswig-Holstein being a traditional trading post for goods to and from Scandinavia. Right in the middle of the most northern county of Germany the marschland and forest in conjunction with two seas – the North Sea and the Baltic Sea with their numerous islands – can be enjoyed.