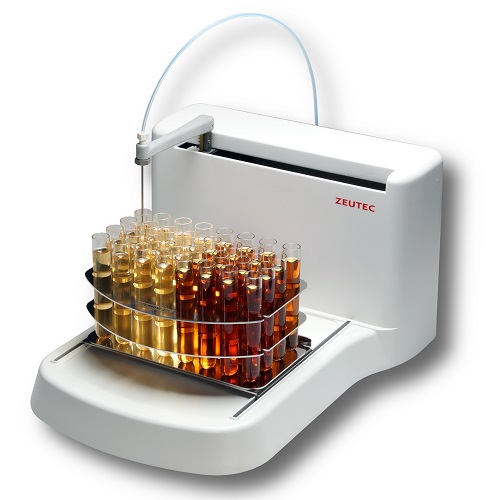 The ZEUTEC AutoSampler 2.0 is used in combination with the Liquid Drawer (standard in SpectraAlyzer 2.0 WINE and SPIRITS instruments package) to analyse the composition of samples using the near-infrared reflectance characteristics of the sample spectra.
This autosampler has a compact design with an integrated peristaltic pump head. Interface and power connectors are mounted on the rear panel.
Due to its small size this autosampler can be placed on the lab bench beside the SpectraAlyzer 2.0 instrument or even on top of the instrument for better accessibility. Up to 32 samples can be presented on one rack.
The whole setup of the autosampler run is controlled by means of the SpectraAlyzer 2.0 user interface.
External power supply
| | |
| --- | --- |
| Input voltage | 100-240 V, 50/60 Hz |
| Output | 12VDC / 5000 mA |
| Plug | DC 5.5 x 2.1 |
AutoSampler 2.0
Max. samples per rack
32
Dimensions sample tubes
Ø 16 mm x 100 mm, approx. 12 ml
Operating temperature range
0 °C – 45 °C, non-condensing
Connections
USB (remote control), power in (12VDC)
Controlled by SpectraAlyzer 2.0
Weight
4,7 kg
Dimensions
288 x 190 x 400 mm
Integrated peristaltic pump
| | |
| --- | --- |
| Max. speed | 190 rpm |
| Tubing | Inner diameter between 0.5mm and 4.8mm 1.6 mm wall thickness, continuous tubing |
| Approximate motor life time | Up to 3000 h |
Scope of supply
AutoSampler 2.0
Power supply
USB cable
Tubing sets
Order information
| | |
| --- | --- |
| AutoSampler 2.0 | 103-A100-1 |