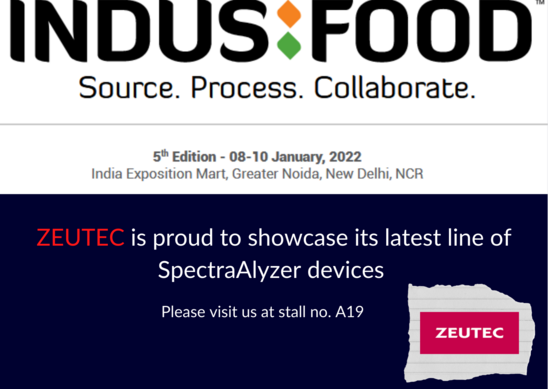 Event date:  8th-10th Jan
Address: Greater Noida
Stall no.: A19                             

Description:
The Second edition of Indus Food- Tech 2022, is scheduled to take place from 8th – 10th January 2022 at India Exposition Mart, Greater Noida. South East Asia's one of the largest B2B show on Technology focusing multiple segments related to Food, Dairy & Beverages processing, Snacks Processing, Edible Oil Processing, Filling & Packaging Technology, Packaging Material, Chiller, Cooler, Condensers, Boiler Technology, and Process Automation and Food Ingredients. There will be no walk-in visitors. Only Hosted and pre-registered buyers both from Indian & overseas will be allowed entry in the event, with an objective of quality business meeting. ZEUTEC is proud to showcase its latest line of SpectraAlyzer devices at this prestigious event.
Head office
ZEUTEC GmbH
Friedrich-Voß-Str.11, D-24768 Rendsburg
T: (+49) 4331 – 136650
E: moreinfo@zeutec.de
Regional Office Asia
ZEUTEC Opto-Elektronik (India) Private Limited
Sabi Cottage, 681, Kavery Layout,
H.A. Farm Post, Dasarahalli,
Bangalore – 560024, Karnataka, India
T: (+91) 9339994833
E: moreinfo@zeutec.de
Find your local sales and service center
Send us a message
We will contact you as soon as possible.