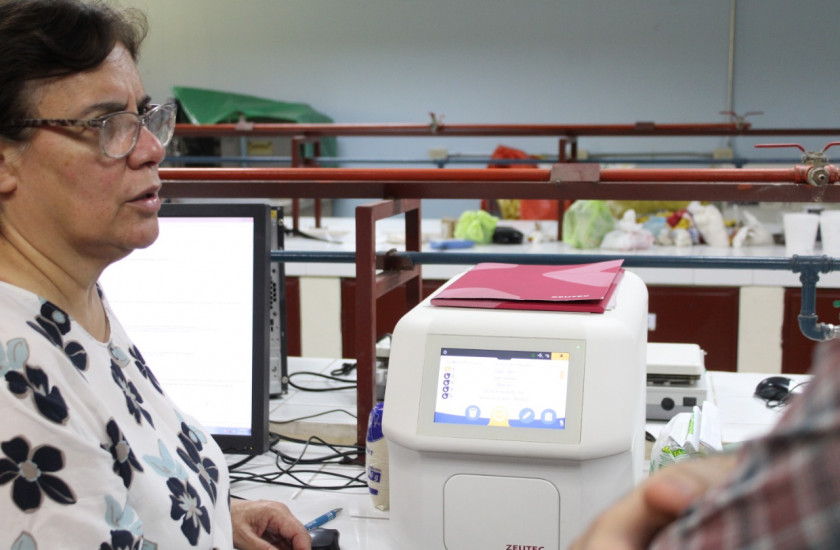 Eila Flores, A graduate of the National Autonomous University of Honduras (UNAH), who has lived in Germany for 37 years, together with her husband are owners of the company Zeutec Opto Elektronik designers and creators of the prototypes SpectraAlyzer 2.0, SpectraAlyzer GRAIN NEO, SpectraAlyzer TEXTILE, among others, donated a food and quality control analyzer to the Faculty of Engineering." Donating this equipment arises from motivation since UNAH is my home of studies," said Flores, who graduated as a Chemical Engineer from the University almost 40 years ago.
She added that the equipment developed by her company has a very good market in European countries, "we have many installed all over the world, even in Africa, China, Taiwan, Egypt, Turkey, Mexico; in Honduras, we have one in Choloma that analyzes textile fibers in maquilas", she said. However, the equipment donated to the University would be the first of its kind in the country to analyze all types of food and all the properties required by the industry, since it can measure 100 parameters in one minute, which in a laboratory takes a week.
Event date: 25th – 27th November, 2022
Address: Children's Cultural Centre, Kalpathru Math, Alamganj, Near NH-2, Burdwan, West Bengal.
Booth no: R- 109
Description:
ZEUTEC is exhibiting in the International Rice Grain Pro-Tech Expo 2022, scheduled to be held from 25-27 November 2022 at Children's Cultural Centre, Kalpathru Math, Alamganj, Near NH-2, Burdwan, West Bengal. We welcome everyone at stall no – R – 109. Our technical experts will be happy to address your application-related query.
Head office
ZEUTEC GmbH
Friedrich-Voß-Str.11, D-24768 Rendsburg
T: (+49) 4331 – 136650
E: moreinfo@zeutec.de
Regional Office Asia
ZEUTEC Opto-Elektronik (India) Private Limited
Sabi Cottage, 681, Kavery Layout,
H.A. Farm Post, Dasarahalli,
Bangalore – 560024, Karnataka, India
T: (+91) 9339994833
E: moreinfo@zeutec.de
Find your local sales and service center
Send us a message
We will contact you as soon as possible.