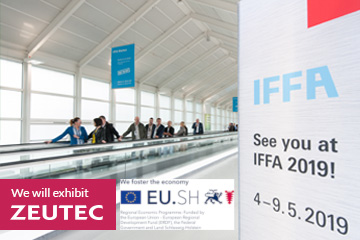 Event date: 4th – 9th May 2019
Address: Frankfurt am Main, Germany
Hall no: Booth and hall to be defined
Description:
The No. 1 for the meat industry – opens its doors again from 4 to 9 May 2019. Thanks to its clear focus, the world's leading trade fair for the sector is unrivalled: everything revolves around the most valuable of all foodstuffs – meat.
Head office
ZEUTEC GmbH
Friedrich-Voß-Str.11, D-24768 Rendsburg
T: (+49) 4331 – 136650
E: moreinfo@zeutec.de
Asia Regional Office
ZEUTEC Opto-Elektronik (India) Private Limited
Tower M2, 13th Floor, Manyata Tech Park,
Outer Ring Road, Nagavara,
Bangalore – 560045, Karnataka, India
T: (+91) 9339994833
E:moreinfo@zeutec.de
Find your local sales and service center
Send us a message
We will contact you as soon as possible